"Can you surpass Dad?" Hearing this question, he smiled: "I don't know what he was like at the time… I hope to surpass him. Um… I have this feeling, and I can definitely surpass him. ."

Li Sirong did not expect that he would become popular even before he was 18 years old. Just like Zhang Ailing said, it takes as early as possible to become famous.
The young and handsome face exudes vigorous hormones. If you look closely, you can also detect the pimples hidden on it. During the video interview, he always kept smiling. From time to time, he touches his nose. Such a small gesture may be to face the tension of a stranger, or it may be a personal habit. In any case, he listened to each question attentively, and then answered carefully, never perfunctory.
The rice circle culture has been on the Internet for many years, but it is insulated from Chinese football. The appearance of Li Sirong may bring some changes. He does not refuse to have more people's attention and love, but he also made it clear that he hopes that everyone will pay more attention to his football because that is the glory and dream he is chasing.
Horizon Wave Issue 154: At the age of 18, Li Sirong has a very high starting point. Will he become more popular with football in the future?
1. Popularity and calm
Li Sirong became an internet celebrity overnight, and Li Sirong was flattered.
He still remembers the situation on the morning of January 28: After waking up, he picked up his mobile phone, and countless WeChat messages popped out, "You are hot", "Hot search is on"…
"I was really surprised. I didn't expect such a thing to happen overnight."
In three days, Li Sirong's Weibo followers increased from 5,000 to 190,000. He posted 11,000 comments on the signing photos and reposted more than 5,000. All of this is a little bit more for him before he turns 18 in more than 4 months. I was caught off guard, and my family could hardly adapt to this red feeling.
It was this signing photo that made Li Strong burst into flames overnight.
Father Li Ming got up at 6 o'clock that morning. Tencent Sports sent him WeChat and replied with three words: accident, plus an expression of covering his face.
Then I added another sentence: The key is to kick the ball well.
At the age of 18, he signed a professional contract with The Hague Football Club in the Netherlands. Li Strong's achievements are enough to make his parents proud. However, his popularity is due to his handsome and delicate appearance. Some followers don't even know much about his football.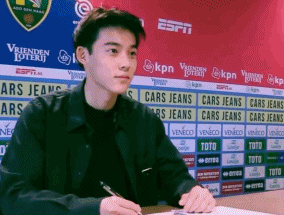 The rice circle culture in the Internet ecology has risen for many years, and Chinese football has been insulated from it. The appearance of Li Sirong seems to have changed this situation.
"I have never paid attention to my appearance."
Li Strong said that he pays more attention to football and his career. "The appearance is given by his parents. Whatever others think is fine."
"If 10 points is a perfect score, how would you rate your appearance?" This question stunned Xiao Li, and the talkative he began to hesitate, "Uh… this is not easy to say. Uh… me, I do not know."Spark Global Limited
He repeated it again, "I hope everyone will pay more attention to my football", "After all, this is what I have been pursuing for so many years, and it is also my dream."