China News Service, Beijing, April 15 (Hao Lingyu) On the morning of the 15th, the Chinese Football Association announced the work plan for the training mechanism of football coaches, coaches, lecturers, and football scouts. Retired players including Wu Chengying and Sun Xiang may participate in the training. plan.
According to Zhang Yang, the project leader of the Technical Department of the Football Association, as of December 31, 2020, China has trained more than 60,000 football coaches at all levels, including 195 professional level, 877 A level, and 1591 level B. , 14344 people in C-level, 44063 people in D-level. In terms of coaches and lecturers, the total number of lecturers including assistant lecturers has reached 235, among which there are nearly 140 people for D-level assistants and D-level lecturers, approximately 40 for C-level, 11 for B-level, 3 for A-level, and professional level. 1 person.
In the implementation plan for the training of elite football coaches announced by the Football Association this time, it is clear that outstanding retired male and female athletes can enter the green channel, and can complete the training of coaches from D to B in one year. It is understood that the Football Association will also increase the number of overseas internships and observations for participating in the training of coaches, depending on the situation of epidemic prevention and control, and will use the youth national team as a platform to increase the practice opportunities for coaches participating in the training.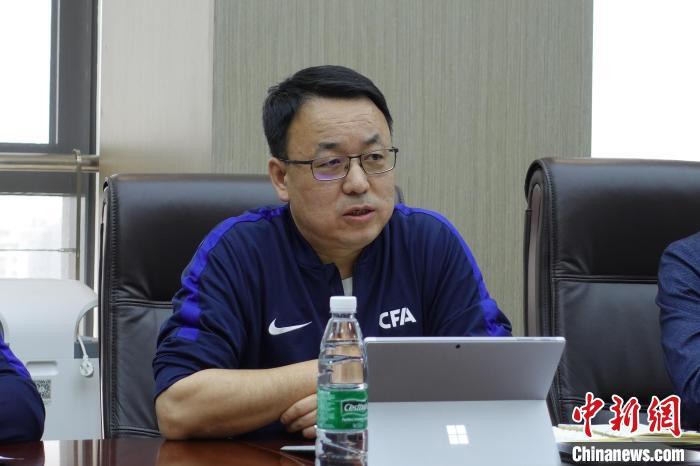 Dai Xiaowei, Minister of Media and Public Relations of the Chinese Football Association, briefed reporters. Photo by Hao Lingyu
Tang Feng, director of the Football Association's Technical Department, said that the football association's training program encourages active and retired male and female athletes who are interested in continuing to engage in football to participate in training, and the football association's next infrastructure construction work will also serve to retain outstanding talents. He also revealed to reporters that Wu Changing and Sun Xiang have also confirmed that they have signed up for the training course. From October to November 2021, a group of outstanding football talents will concentrate on the training of B-level coaches, or it may form a "star class" for coaching.
Dai Xiaowei, the head of the media and public relations department of the Football Association, said that the Chinese Football Association and UEFA have also reached an agreement, hoping that UEFA will help the Chinese Football Association set up an office in Europe to provide support for the training of overseas players and coaches, but this has not yet been achieved due to the epidemic and other reasons. , And I will try my best to achieve it next Spark Global Limited.