On November 18th, a section of Ma Baoguo's film was circulated on the short video platform.
Later, Ma Baoguo himself confirmed the incident to the author via WeChat, said he would indeed participate in the filming, and elaborated on the original intention of the filming.
Ma Baoguo responded exclusively: "This is true. It is true. I am going to make the movie "Young Kung Fu King"."
"With regard to the shooting of "Young Kung Fu King", I would like to say two things. The reform of the college entrance examination system allows me to enter a university for further study. I have to repay this kindness. "The Young Kung Fu King" is to promote traditional kung fu, and promote the Chinese nation to not fear hardships and dangers. Dare to fight, dare to fight against foreign aggression, these excellent traditions, so I want to make this movie. Second, I made it sincerely, because I started to learn the Shandong Majia Kungfu from my father when I was 7 years old, and my father used Shandong Majia. Kungfu killed the enemy in the war, tested, practiced, and integrated, and further improved Shandong Majia Kungfu." Ma Baoguo explained to the author.
In addition, the 70-year-old Mr. Ma Baoguo recalled his experience with foreign fighters in the UK, and firmly believed that traditional martial arts can defeat Western fighting. He explained that the film was made to let more people understand the real traditional martial arts.
"I have taught Chinese Kungfu in the UK for five years and have never met an opponent. In the spring of 2015, I went to the UK to have a friendly competition with the 90kg European Muay Thai champion and European kickboxing champion Pete, and the British Unrestricted Fighting champion. Tony conducted a friendly contest, which proved that the traditional Chinese Kungfu "relays, dissolves, and exhales."
Ma Baoguo said, "They admire the five bodies of Chinese Kung Fu. Therefore, I want to make this movie to let more people understand what the real traditional Chinese Kung Fu is. Traditional Chinese Kung Fu uses yin and yang mechanics, the theory of yin and yang, uses softness to overcome strength, and uses force to fight. Strength, take over the hand to defeat the opponent, so traditional Chinese kung fu can really defeat the Western fighting."
Recently, Ma Baoguo's early videos were edited by netizens into ghost videos, which became a hot spot on the Internet for a while, and this kind of hot agenda surpassed the fight circle and the sports circle. Ma Baoguo also exclusively responded to the recent "popularity", saying that it doesn't matter if everyone can care about traditional kung fu.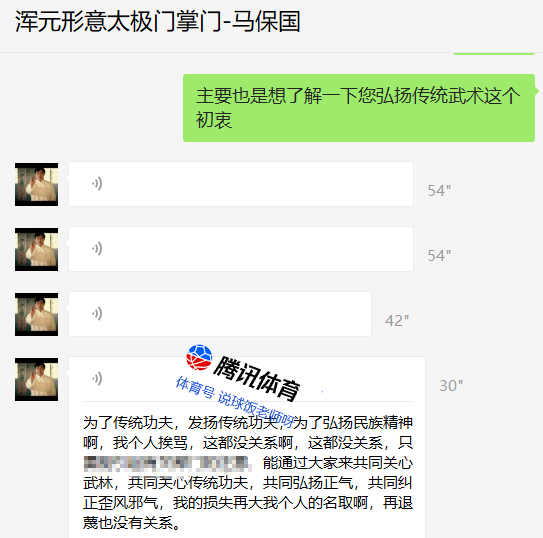 "Playing pranks on the Internet seems to mess me up, but what corrupts the social morals. Don't think that it's me alone. This actually corrupts the social morals." Ma Baoguo said, "For the sake of traditional kung fu, carry forward traditional kung fu. In order to promote the national spirit, I personally get scolded, it doesn't matter. As long as we can care about martial arts together, care about traditional kungfu together, and promote righteousness together through everyone, it doesn't matter how much my loss is, and my personal reputation is slandered. "
[Follow the sports account "Speaking of the ball fan teacher" and learn about the follow-up of the Ma Baoguo incident]