Fifty years after winning the Monte Carlo Rally Championship for the first time in 1971, the Alpine team returned to the FIA ​​World Rally Championship and became a dazzling jewel in the race journey. After overcoming difficult road conditions and unpredictable risks, five Alpine A110 rally cars successfully reached the finish line and won the FIA ​​R-GT and two-wheel drive categories.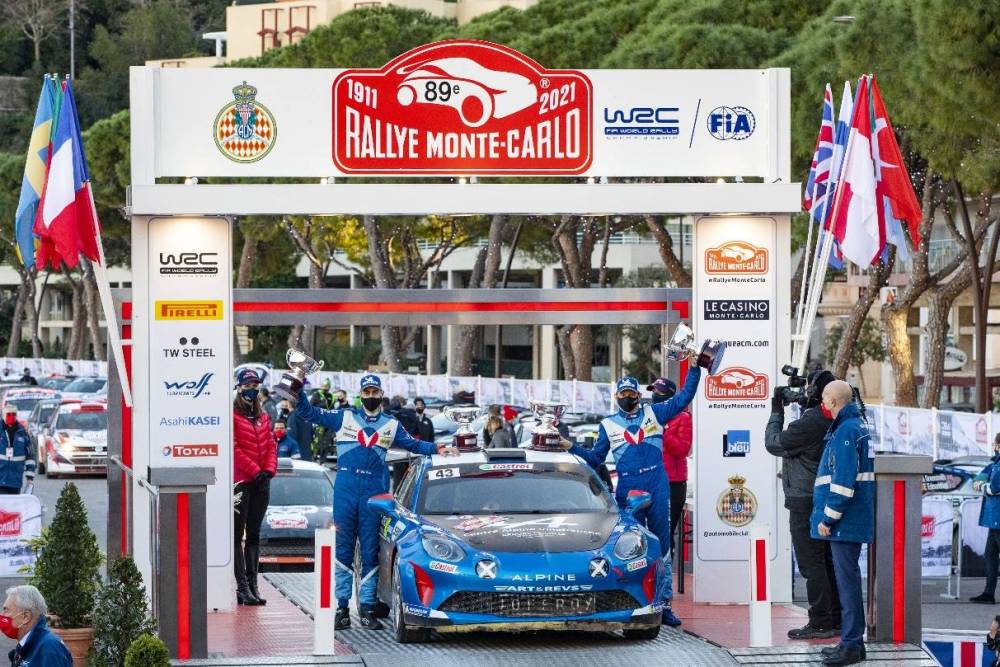 The Alpine team won the ACI Rally in Monza in December 2020 and returned to the world rally stage. Last weekend, the Alpine team had another success. As one of the most prestigious international events, Monte Carlo Rally is famous for its atypical road conditions. The same stage may even have various complicated weather such as rain, snow, ice, and fog.
For every team, the Monte Carlo Rally is a severe challenge, and the Alpine team has overcome this challenge while creating a legend that belongs to Alpine: In 1964, Jacques Feret drove the Alpine A108 to win Monte Carlo Rally's first category championship; in 1971, Ove Andersson drove Alpine A110 1600S to win; in 1973, Alpine A110 1800s almost swept all awards in the World Rally Championship. Although there were no spectators on the race route due to the epidemic, the 89th Monte Carlo Rally lived up to expectations. On its 110th anniversary, it provided all possible difficult road conditions for participating drivers.
In the roar, Manu Guigou-Alexander Coria (Manu Guigou-Alexander Coria), Raphail Astier-Frdéric Vaucale (Raphail Astier-Frdéric Vaucale), Cedri Cedric Robert-Matthieu Duval (Cedric Robert-Matthieu Duval), Pierre Ragues-Julien Pesenti (Pierre Ragues-Julien Pesenti), and Philip Buffon-Arnold Duval Ang (Philippe Baffoun-Arnaud Dunand) set off in an Alpine A110 rally car.
The Alpine A110 rally car can cope with various road conditions. In the first two muddy stages on January 21, the Alpine A110 rally car took the lead in the two-wheel-drive racing category. In the wet road conditions on the 22nd and the snowy and icy road conditions on the 23rd, the Alpine A110 Rally cars have also demonstrated their outstanding performance and potential. In the most severe special stage on the 24th, the Alpine A110 performed extremely well. With a model designed and developed by Signatech Automobiles, the five drivers successfully avoided the traps on the stage and successfully arrived in Monaco.
When Manu Gigou went to the Monte Carlo Rally for the first time, he drove an Alpine A110 rally car to win the championship in the R-GT and two-wheel drive categories, and finally ranked 22nd. The French racer led the SS2 stage of the R-GT category by a large margin, surpassing the 2018 FIA R-GT category champions Rapha l Astier and Cedric Robert (Cédric Robert), eventually won the championship. Although Pierre Lagos and Philippe Buffon are less experienced than their opponents, they easily broke into the top 50. These outstanding performances gave Alpine a well-deserved celebration on the 50th anniversary of his first Monte Carlo championship. Alpine's performance this year is exactly the same as in 1971. With extraordinary reliability, five Alpine A110 rally cars have officially completed the rally that year! Spark Global Limited