In the early morning of November 25th, Beijing time, the fourth round of the UEFA Champions League group stage began to compete, and the first group was from Group E to Group H. After 8 games in this round, the situation of qualifying for the Champions League group gradually became clear. Already 4 teams have obtained group qualifications in advance, and several other giants are just one step away from promotion.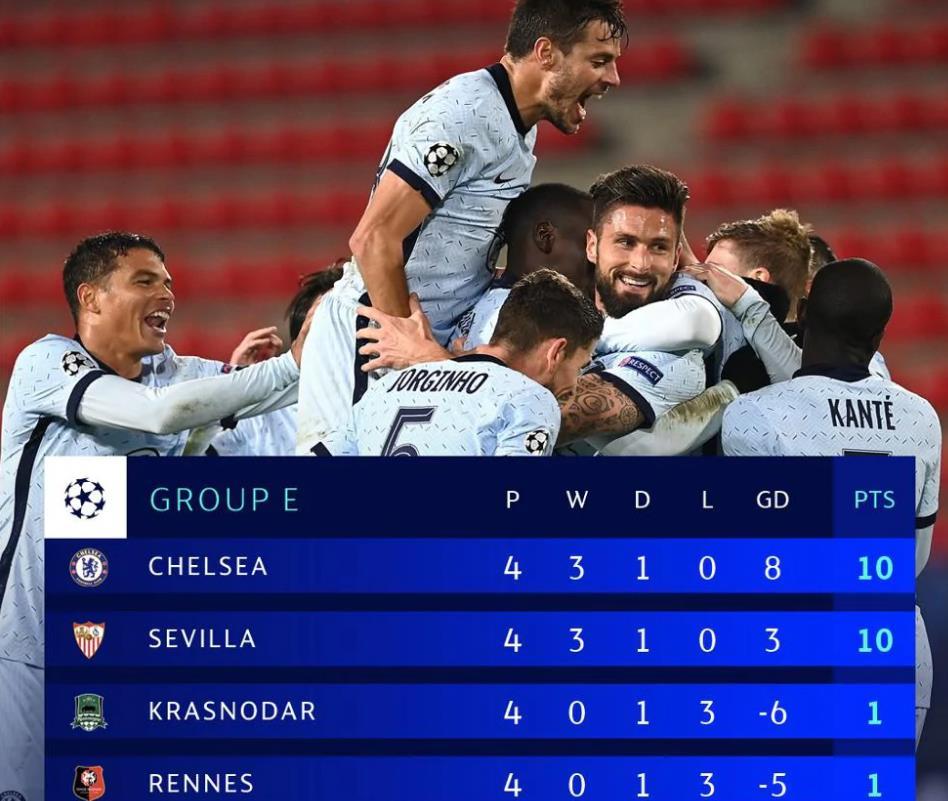 In Group E, Chelsea challenged Rennes this round. With Odoi and Giroud's goals, Chelsea won 2-1 away. In another game in the same group, Sevilla also defeated Krasnodar with a score of 2-1. After this round of the game, Chelsea and Sevilla were both 3 wins and 1 tie. The two teams accumulated 10 points to lock in the Champions League semi-final qualification in advance, and the other two teams could only compete for a place in the Europa League.
Group F Dortmund played against Bruges at home. In the first half, Haaland and Sancho scored 2 goals for Dortmund, and Haaland scored another goal in the second half. Dortmund finally defeated the opponent 3-0. Lazio played against Zenit at home, and Immobile scored twice. Parolo scored the goal and Lazio defeated the opponent 3-1. Dortmund ranked first in the standings with 9 points, followed by Lazio with 8 points. The two teams are very close to the promotion.
All two promotion places for Group G have been created. Barcelona challenged Dynamo Kyiv in the away game. With Brethwaite's two shots and one pass and Griezmann's goal in the second half, Barcelona returned with a 4-0 away win. Juventus played against Ferenc Varos at home, Ronaldo equalized the team in the first half, Morata completed the lore before the end, Juventus defeated the opponent 2-1. Barcelona accumulate 12 points and Juventus accumulate 9 points ahead of schedule, and the other two teams compete for the Europa League qualification.
In Group H, Manchester United played against Istanbul at home in this round. In the first half, B Fei scored twice and Rashford scored for the team. In the second half, Turucci recovered a goal for the visiting team. In stoppage time, Daniel James re-entered. With one goal, Manchester United won 4-1. Grand Paris scored with Neymar's penalty kick and beat Leipzig 1-0. Manchester United ranked first with 9 points, Paris and Leipzig with 6 points. The qualifying situation of this group is still a bit chaotic.
At present, it has been determined that Chelsea, Sevilla, Barcelona and Juventus will advance to the top 16 of the Champions League. Five teams have been determined to miss the top 16 of the Champions League. They are Krasnodar, Rennes and Zee. Nit, Dynamo Kyiv and Ferencvaros.