Last season, Edwards played in the NCAA for a year. In 32 games, he averaged 19.1 points, 5.2 rebounds and 2.8 assists per game. Edwards' statistics are good, but he is always burdened by doubts. Scouts and ball critics questioned his unstable performance, questioned his lack of motivation to play, and even some scouts compared him with Andrew Wiggins "Mamba" .
Edwards has a dull character and has a lot to do with his childhood experience. In his childhood, his grandmother and mother were the two most important people. But when Edwards was 14 years old, he lost his mother first, and then He lost his grandmother again, and both died of ovarian cancer, which made him suffer.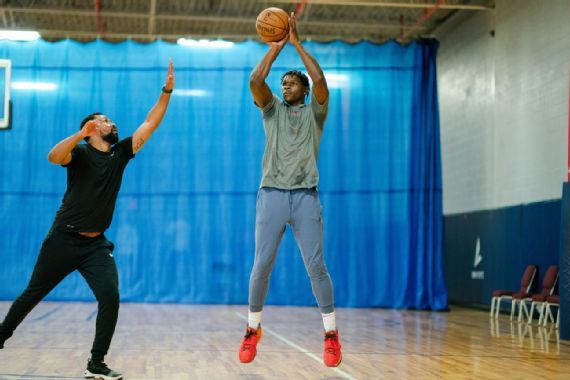 "Only two people can get my full trust, but everything is over, no one can get my trust now," Edwards said.
Edwards' brother Bubba said: "In our entire life, our mother and grandma are the ones who support us most and love us the most. They died in the same year. This is a huge blow to us. It will make your heart Becoming cold, you will never get the support and love you once received."
Perhaps the death of the two most important relatives made Edwards' character flawed, but Edwards' basketball talent is undeniable. The draft network compared him with Oladipo and Donovan Mitchell. Now Kendrick Perkins, who is now a ball critic, believes that Edwards has the athletic ability of Wei Shao and the scoring ability of James Harden. .
In the eyes of Edwards' mentor Klien, he is definitely the future All-Star: "There is no doubt that he can enter the All-Star many times, if he can be in the right environment, in the kind of team that can compete for the championship. In, he can become the core puzzle, I don't think there is a limit for him."
Many players will repeatedly emphasize how much they love basketball when they mention basketball, but Edwards is different. Sometimes you can't tell how much he loves basketball from Edwards' words.
Edwards said he loves basketball, but he admits that he has not really invested in it. If the opportunity to enter the NFL and the NBA are in front of him at the same time, he is most likely to choose the former.
Edwards said that basketball now ranks first in his heart. He loves basketball and basketball is his life. But he also said that this is because basketball can help him accomplish a lot of things that he needs to accomplish. This is a job. He needs to use this job to support his family and make his family happy.
From Edwards' words, it's hard to tell that he has a pure love for basketball. Perhaps the lack of pure love for basketball will lower the upper limit of a player, but at least for now, Edwards' dream and goal of entering the NBA have been realized.
When he was young, Edwards wrote these two goals on the bedroom wall:
"Future McDonald's All-American Team Member"
"Future NBA Player"
After seeing Edwards stain the wall, Edwards' grandmother was not only not angry, but very proud: "Child, you set yourself goals, and I hope you will achieve them."
Edwards did it.