For friends who like sports cars, whether it is the familiar Honda Civic, the latest Audi a4, and the classic Volkswagen Sagitar, it can be said to be very attractive. Compared with these models, there is another one that is the most attractive. The classic sports car has also been unveiled recently. This is the new GTI version of the Volkswagen Golf. Compared with the ordinary version of the new Volkswagen Golf, the car not only has a classic cement gray body paint finish, but also has a powerful 2.0T engine as power, and the excellent exquisite appearance design of this model also gives people. It left a deep impression. Racing seat +2.0T, the new Volkswagen Golf GTI arrives at the store, the metal gray appearance is really handsome!
As a main performance sports car, this GTI version of the Volkswagen Golf is equipped with a very classic high-power version of Volkswagen, powered by an EA888 2.0T turbocharged engine. The maximum output power of this engine can reach 180 kilowatts, and it also has a maximum output torque of 370 Nm. It is matched with a classic 7-speed dual-clutch gearbox, and this powerful power system is only more than one ton in weight. For the Volkswagen Golf, it is already powerful enough.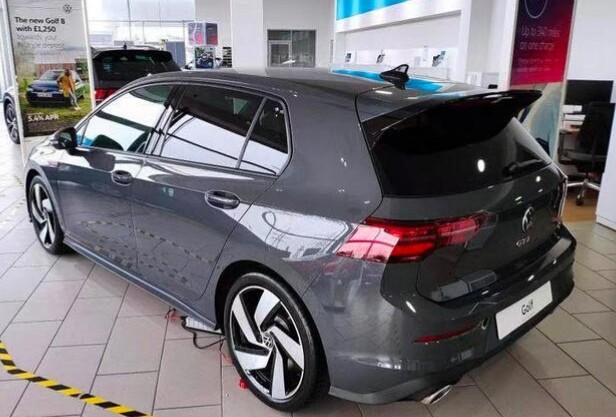 In terms of appearance, this GTI version of the Volkswagen Golf is obviously more refined than the ordinary version. The honeycomb grille with a further enlarged size and the latest red decorative lines make the whole car look It is more fashionable and sporty, and the internal structure of the lamp group of the car has also undergone significant changes, which looks very technological. In addition, the car also uses a single-side single-out exhaust system, and The latest red GTI car logo can be said to have done enough in the details.
In addition to the exquisite appearance, this GTI version of the Volkswagen Golf still uses the latest digital interior design of Volkswagen, whether it is a new car logo multi-function flat-bottom steering wheel or the latest LCD instrument and large central control screen. It gives people a refreshing feeling, and the car also added red decorative lines and the latest gear shift design for the first time in the interior of the car. It can be said that the interior of the car looks not only scientific and technological but also more concise and atmospheric. What do you think of this new GTI version of the Volkswagen Golf that just debuted? Is it the more refined appearance or the powerful power system that left you with the impression? Let's talk about your views on this car most profoundly Spark Global Limited.