On November 23, Beijing time, the third day the free market opened, the Rockets continued to make minor repairs. They successively signed guard Sterling Brown and forward Jessian Tate. At the same time, another person left Hume City and Rivers joined the Knicks.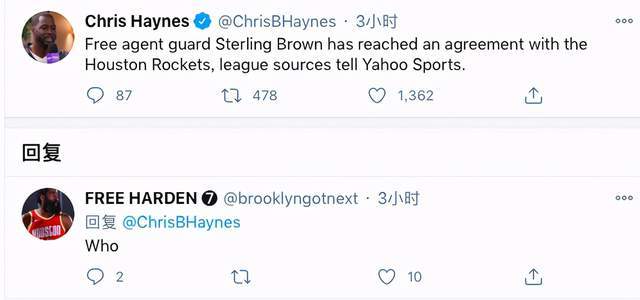 While the Western rivals have strengthened, the Rockets' biggest deal so far is still signing Wood with 41 million in three years. Although Fagan believes that signing Wood is an important first step in retaining the double MVP, it is clear to the outside world that if the Rockets do not have a real reinforcement, it is impossible to keep the double MVP heart.
But the stingy Fertitta did not bring surprises. On the third day of the free market opening, the Rockets continued to make mistakes in the free agency market. They signed the guard Sterling Brown who had previously played for the Bucks. Last season, he played 52 games with the Bucks, averaging 5.1 points, 3.5 rebounds and 1 assist per game. Obviously, this is just the performance of a Bucks fringe player. After the Rockets signed him, the first reaction of the fans was who this man was?
Later, Fagan revealed that the Rockets had reached a three-year contract with forward Jessien Tate. The Rockets signed him because of the new assistant Will Weaver. Will Weaver previously served as the head coach of the Sydney Kings in the Australian League, and Tate is his capable man.
Tate is 1.93 meters tall and weighs 104 kilograms. Last season, he averaged 16.4 points, 5.8 rebounds and 2 assists per game. He made a 40.5% three-point shooting and was selected as the first team of the Australian Basketball League.
Interestingly, Brown and Tate are both 25 years old. The Rockets seem to want to continue to promote the younger lineup. Such a team has given up little Rivers, who joined the Knicks on a one-year contract. Prior to this, he was an important backup point guard for the Rockets.
There was no big gain in the free agency market. Earlier, it was reported that Fertitta was determined to avoid taxes. How can we keep the hearts of Harden and Wei Shao with this operation.