On November 24th, Beijing time, according to the US media clutch points, two NBA reporters Anthony Irving and Harrison Fagan discussed the Lakers' new lineup in the latest podcast. Both reporters believe that the Lakers now have the strongest 9-10 player rotation in the league.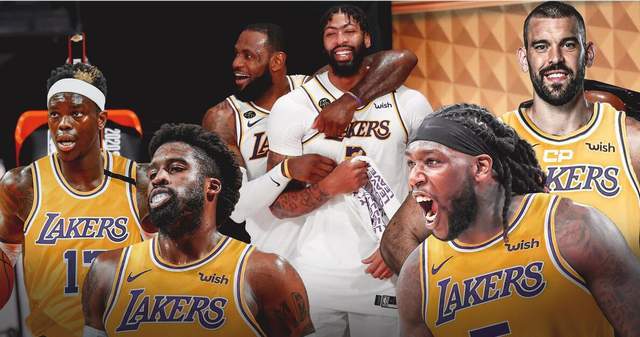 "This is the current rotation situation: James, Davis, Schroder, Harrell, Pope, Caruso, Kuzma, Matthews, Marc Gasol, and now Markieff Morris This are the (Lakers) 9- or 10-man rotation list, and this is the best 9- or 10-man rotation in the NBA right now." Anthony Irving said.
Some media and fans have predicted that the starting lineup for the Lakers in the new season will be Schroder, Pope, James, Anthony Davis, and Gasol Jr., and the backup lineup will be Matthews, Harrell, Kuzma, Caruso, and Markieff Morris. There are currently three players in the Lakers-Taron Horton-Tucker, McKinney, and Jordan Bell. The Lakers have only 2 places left to reach the highest standard of the NBA's regular 15-man roster (excluding two-way contract players). McKinney and Jordan Bell are non-guaranteed contracts, and the Lakers can lay off them.
Harrison Fegan supports Anthony Irving's argument: "I think it's almost impossible to argue against this. At this point, it's clear that other teams may need to put in some effort to try to make certain things happen. However, currently in Freedom Who is left in the player market? I don't know who else can make some movement." There are not many players worth digging in the free agency market. In other words, the Lakers' rotation for the new season is basically determined. However, Fegan also believes that the Lakers' new year offseason swap may weaken the defense, but the Lakers' offensive improvement is significant. The Lakers may also use Pope and Matthews in the backcourt to let Schroder play as a substitute. If so arranged, the offensive firepower of the Lakers' bench is too terrifying.
Schroder, Harrell, Kuzma, Caruso, and Markieff Morris, this set of bench lineup maybe even better than the starting lineup of some teams in the league. The Lakers introduced Schroder, Harrell, Matthews, and Gasol Jr. during the offseason. They will all play a huge role in the new season's Lakers lineup. With their support, James and Big Eyebrow have greatly reduced their pressure in the new season, and their hopes of defending have also improved.